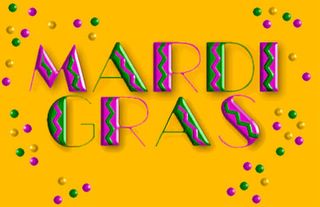 The wake up call was WAY too early for me on Saturday morning at VAF, but like a trooper, I went off and worked all day while Danni stayed at the hotel and spent the day shopping (yes, new sex toys and clothes!) and enjoying a movie. I didn't get back until about 8pm and was pretty beat. I was half thinking about just passing on the party to get rested up for the "after party".
But then Gina G (
yes, that Gina G
) walked in our room and started trying on some of Danni's outfits, and I suddenly found the necessary energy to be "up" for the party.
It was Mardi Gras after all.
We had all bought plenty of Marid Gras "stuff" for the party between the Friday and Saturday house parties last weekend. Danni wore a sexy fishnet dress with a little purple itsy-bitsy, teeny-weeny bikini. (Keep reading; you'll see the pic later.) I had a big purple hat and tons of beads, including one special set of "big balls". We headed to the party and saw all sorts of friends.
Ok, they were just big ball BEADS!
Of course, following in the Mardi Gras tradition, I offered up beads to each little hottie that showed me her tits (and thanks to most of you for letting me suck your tits as well ;-) ).
As I mentioned, I had a special set of "big ball" beads. Tons of ladies wanted me to give these to them, but as Danni and I told each of them,
these
balls had to be "earned" and flashing me tits or pussy wasn't gonna cut it, lol.
While the party wasn't packed, maybe 80 couples, lots of our hot friends were there. Gina G had brought Greg with her. This was the first swinger party for both of them, and the first time that we met Greg. We'd only had the pleasure of Gina G's company as a single female previously. Gina G wore a metallic blonde wig and hot yellow mask that intrigued the crowd. I had all sorts
of people asking who she was.
Greg wore a big afro and huge sun glasses. Think Greg Brady with Elton John glasses. Boy did he look different when the wig came off.
Also at the party were N&F, who we'll now call OuiOui (yes, that's French for YES! YES!) and Barney. We danced and groped and grabbed each other all night. There was a contest for which girl had collected the most beads and Gina G was one of the finalists. We think that she should have won, but being new (and hiding that gorgeous face behind the mask), I guess she didn't quite have the extensive built-in fan base of the other finalists, no matter how loud we cheered. And, she even had my one-and-only "big ball" beads!
Midnight came, and our regular readers know that this is when the party really starts. We took Gina G and Greg and headed for our room. Danni and Greg decided to walk up the stairs, while Gina G and I took the elevator. I made the right choice.
As soon as the doors closed, Gina G was on her knees and pulled out my cock and started expertly sucking away. The 4th floor is restricted, so when the door opened on the 4th floor, I wasn't concerned. But Gina G quickly covered me up as there were a lot of people right outside the elevator. I told her not to worry, that they were all "players" so, she returned to my cock. The elevator then moved to the 3rd floor and opened, and I recognized the people and told Gina G not to worry about them, either. I think at that point, Gina G felt she had nothing to worry about.
Down the elevator moved to the 2nd floor and when the door opened, a guy saw us. But this time, Gina G didn't stop. Of course, this time, it was not a member of VAF and this 20-ish guy got a full view of Gina G sucking me hard and fast. Thumbs-up!
Eventually, we got to our floor and headed down to the room. Danni and Greg were at the other end making out, but still clothed. Apparently Greg was hard. Gina G bent over and had Greg fuck her from behind while she went back to sucking me.
OK, now we really did eventually get into our room. Of course we were quick to get naked. Gina G said she felt bad that I didn't get much "Gina time" last week, so she was kind enough to pay special attention to me.
We fucked in a number of interesting positions, but perhaps the most interesting was when Gina G laid on her back, knees behind her ears and had me get on my stomach, feet near her head and stick my cock in her pussy while my head was near her feet. I'm sure there's some sort of Kama Sutra name for this position, but I just can't seem to find it, at least not
here
. If you know the name of that position, let us know.
The girls enjoyed both the double-headed and the strap-ons. Gina G certainly has a talent wearing a cock, lol.
Both girls got on their knees and we fucked them doggie style. I first fucked Danni while Greg fucked Gina and blew his load all over her back. When he finished, Gina G told me to fuck her the same way, so damn, I did. Gina's such a hottie that she has a way of making me cum fast, and after some of her nasty talk, I too, blew my cum load all over her back with Danni enjoying a close-up view and licking her fingers after caressing Gina G's back.
While Gina G was eating Danni's pussy, Danni took both Greg's and my cock in her hands sucking both of us. Danni was in heaven and Gina had Danni squirting numerous times, the first time that Greg had ever seen such a wet-hot display.
We were in the middle of a nice big interactive pile of four when there was furtive knocking at the door. The problem was who was going to "disengage" a body part long enough to answer the door. I'm not sure who eventually got up, all I know is that I was able to keep fucking, lol. And Danni stayed on her back.
Much to our delight, OuiOui and Barney entered the room. They were quick to get naked and hop on the bed and started fucking. Soon, OuiOui and Barney got intermingled with the rest of us. I was able to have OuiOui's pussy, which tastes so good.
We've played with OuiOui and Barney a lot, but they've always been soft swap with us, which was fine. That was what they were comfortable with. So, you can understand my surprise and joy when OuiOui got on top of me, grab my cock, and lowered herself onto my hardness. She began power squatting up on down on me, holding my hands as my cock pound deep inside that tight, wet and wonderful pussy.
Danni saw OuiOui fucking me and realized that the rules had just changed. So she hopped over to Barney and immediately got on him and rode his waiting cock.
OuiOui looked so good going up and down on me, and Gina G was helping me out while keeping Greg happy at the same time. Soon, OuiOui had me cumming deep inside her and she fell onto me, kissed me all while my cock throbbed from her tight cunt.
Eventually, we were all too sore to keep going (though we think Gina G might have a battery somewhere up her ass, lol). OuiOui and Barney didn't have a room so decided that they had better get on the road. We kissed them goodbye. I owe OuiOui either some big ball beads, or as we talked later, we think she earned my purple Mardi Gras hat.
Gina G and Greg joined us as we went to check out the party floor. By this point, it was around 2:30am and most people must have been in the rooms doing what we just finished. (at least we hope so). Gina G got on the pole and put on a sexy show for the 10 or so people in the room. A few other girls joined her on the pole and we were able to watch these sexy girls grind and tease each other.
The music then stopped for the night, and we realized that it was time to head downstairs. I gave a quick attempt at my own kind of pole dancing. Fortunately, not many people saw this rather unseemly attempt to be sexy.
The four of us went back to our room and spent a couple of hours (yes hours) talking. We talked about our lives, our loves, and just got to know everyone better. Normally when we get together, we seem to get naked and our mouths are too full to really talk.
We kissed goodnight sometime after 4am.
It was a great weekend for Danni and me, and we can't wait for the next VAF on April 21-22. If you're going to be there, be sure to let us know. The theme on Saturday night is Leather and Lace.
Hope we'll see you there!